Some malware programs deliberately alter Windows settings, usually by restricting the user from carrying out certain actions. This is usually done to make it harder for the user to remove the malware. Trojan Remover checks for such alterations during a normal scan.
When Trojan Remover detects that there are restrictive Windows Explorer Policies in force on the computer it displays an alert screen: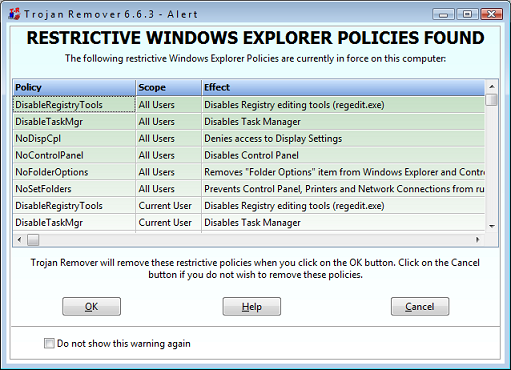 The screen shows which restrictive Windows Explorer Policies are in force and what the Policies restrict.
You have the following options:
Remove these restrictive Policies
Click on the OK button to remove these Policies. Unless you see an error message the Policies will be removed and the restrictions will no longer be in place (you may need to restart the PC for some of the Policy effects to be disabled).
NOTE: it is possible that these Policies have been deliberately created by the computer's owner, using Group Policies. You should not click on the OK button unless you are sure that these Policies should not be in effect.
Leave these restrictive Policies in place
Click on the Cancel button to leave these Policies in place. The Alert screen will be closed. If you do not wish to see this alert screen the next time you run a scan, place a checkmark in the box labeled 'Do not show this warning again' before you click the Cancel button.
---